The Hanoi Department of Finance tightened its market management as part of its efforts to stabilise prices, curb inflation and ensure the supply of essential goods until the end of the year and the up-coming Lunar New Year in early 2014.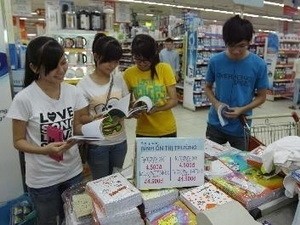 Illustrative image (Source: VNA)
Accordingly, the Department is monitoring price movement for essential commodities and services such as food, foodstuff, sugar, medicine, oil and gas, fertilizer, cattle-feed and transport service.
Based on its investigation, the Department will propose the municipal People's Committee for taking necessary measures to stabilise the market, while increasing commodity storage to meet consumption demands.
The city also gave s uitable assistance to enterprises, by providing zero-interest loans up to 318 billion VND (roughly 15 million USD) for them to stabilise prices of essential goods between July 2013 and April 2014.
Enterprises which join the price stabilisation programme must sell goods at prices as committed and can only increase prices if approved by the Department of Finance with adjustments within 10 percent of the market price.
This year's programme aims to give priority to industrial parks, low-income residential and remote areas with the focus on providing clean and high-quality food for consumers.
The city authorities also plan to organise about 38 trade fairs at 16 suburban districts and other 400 mobile goods outlets to provide subsidised goods to local consumers.