Hanoi recently invested large amounts on projects to curb traffic congestion but to no avail as chaotic conditions still prevail on the capital city streets.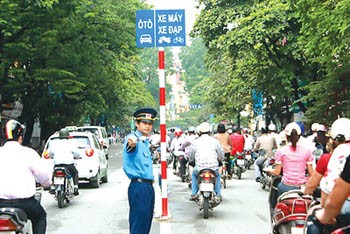 Motorcyclists travelling on an automobile lane on a Hanoi street (Photo: SGGP)
For instance, Hanoi has spent VND1 billion (US$47,000) a day to segregate different kinds of vehicular traffic to reduce congestion and systemize the flow.
However, disorder, confusion and more congestion seems to take over during peak hours on streets targeted for traffic segregation such as Tran Khat Chan, Dai Co Viet, Pho Hue, Hang Bai and Giai Phong.
According to experts, segregation of traffic in Hanoi has not been successful because of cumbersome infrastructure.
Hanoi is planning to build eight new flyovers for light truck traffic. This move is expected to help deal with traffic congestion in the future. However, the public has raised concern over the high cost of nearly VND150 billion (US$7.1 million) to build a flyover.
According to several residents, the city should implement a pilot project to initially build only one flyover. If it proves effective and functional then only should authorities go ahead and build more.
Nguyen Manh Hung, chairman of the Vietnam Automobile Association said that it is better to test a project before implementing on a larger scale.
On the other hand, several residents and officials said that the city should implement speedy action to tackle the daily traffic jams.
Recently, Hanoi submitted a plan to the Government asking to change school and office timings to reduce rush during peak hours.
According to Pham Ngoc Vinh, pensioner from Thanh Xuan District, traffic jams have occurred for decades and authorities have had enough time to study the pros and cons. Change of school and office timings have been applied in Ho Chi Minh City and Hanoi before but failed.
Vinh said old habits die hard and residents have not been cooperating in changing or adjusting to their existing habits. Authorities will have to crack down with very strict regulations and fines to control the traffic chaos.
Vu Duc Dam, Chairman of the Government Office said that leaders in Hanoi City and the transport industry should dare to think, take responsibility and act to resolve the worsening traffic congestion.