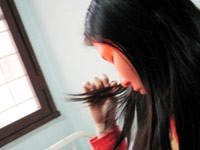 The teenager shows where her hair burns
A 15-year-old girl's teacher and friends were shocked enough on Monday when they smelt something burning and turned around to see the girl's hair on fire, but half an hour later, it burst into flames a second time.
The girl from Nam Dinh Province near Ha Noi was taken to the Central Pediatrics Hospital in the capital.
In her hometown she complained of a bad headache. Her blood pressure and temperature were found to be normal though, at the Nam Dinh General Hospital.
The girl has been asked not to wear a felt sweater as it is believed that static electricity from the material is the cause of the flames. Her phenomenon is being followed up.