The ceremony for the completion of the 110-kV Ha Tien—Phu Quoc underwater cable system connecting the island to the national electricity grid was held on February 6 at the Duong To Commune in Phu Quoc District, Kien Giang Province.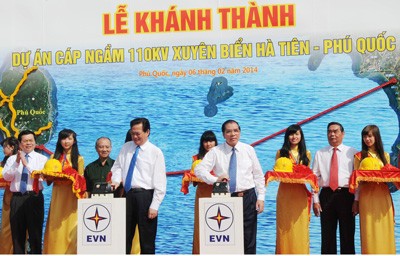 Former Party General Secretary Nong Duc Manh and Prime Minister Nguyen Tan Dung press the button to celebrate completion of 110-kV Ha Tien – Phu Quoc undersea cable system.

Former Party General Secretary Nong Duc Manh, Prime Minister Nguyen Tan Dung, Politburo and Party Central Committee Secretariat Le Hong Anh, and multiple Party and State leaders attended the ceremony.
The system stretches 57 km from Thuan Yen Village, Ha Tien Town to Ham Ninh Village, Phu Quoc District. Total investment for the project is estimated at VND2.36 trillion (US$111.32 million).
The service aims to raise living standards on the island by providing a supply of electricity.  Citizens of the island will enjoy electricity same electricity prices as the mainland.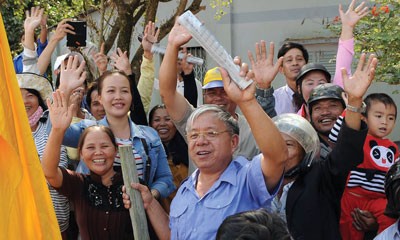 Local people are happy with the undersea power line to link Phu Quoc and mainland .