Reducing Vietnam's aggregate demand is one of the measures which the Government will adopt to restrain inflation and stabilize the macro-economy.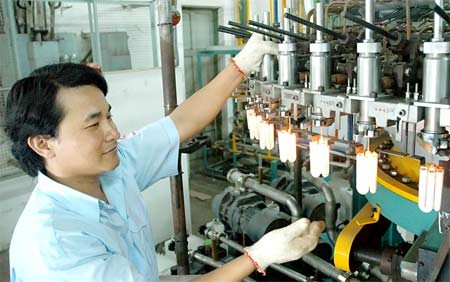 A production line of light tubes at Dien Quang Joint Stock Company in Ho Chi Minh City (File photo: SGGP)
This was disclosed by the Central Bank's governor Nguyen Van Giau on February 20 to Sai Gon Giai Phong reporters.

He said that the consumer price index of January had soared sharply to 1.74 percent and the trade deficit had reached US$12.5 billion in 2010 despite all drastic measures taken by the Government.

In the present scenario, when the economy has been restructured step by step, short-term measures to stabilize the macro-economy and restrain inflation are necessary.

He suggested the Government use the effect of decrease in aggregate demand as a key measure. To reduce aggregate demand, both currency and fiscal policies must be implemented.

The bank would have to manage to keep the credit growth at a reasonable rate. The credit growth has increased sharply in recent years, to 51 percent, 37 and 28.7 percent in 2007, 2009 and 2010 respectively

He added that the Central Bank had planned to control credit growth rate for 2011 to 23 percent, lower than 2010. However, the Prime Minister has just agreed to his proposal to keep the rate at less than 20 percent or even 18-19 percent in 2011, to reduce aggregate demand.

The governor believed he could take economic and administrative measures to achieve this target.

Credit would be given to the production sector; to rural areas to create impact on economy and society; to small and medium-scale enterprises, who create jobs for society; to auxiliary industry, which is a basis for the transformation of the economic structure and contributes to reduce imports and the creation of jobs; and to industries that need to be further developed, such as the power supply units.

Mr. Giau said that in order to reduce total spending, the Central Bank will raise compulsory reserve rates in commercial banks with the aim to scale down loans and increase interest rates to scale up savings as well as screen projects worthy of a loan.

The industries which were cleared for development would benefit from preferential rates, he added.

Mr. Giau said the Prime Minister has also approved of four solutions relating to fiscal policies to scale down aggregate demand.

They include increasing State budget collection, reducing State budget overspending to less than five percent, making a priority list of investment projects for 2011 and cutting down regular spending by 10 percent.

He said that residents and enterprises need to have confidence in these measures to stabilize the macro-economy and curb inflation which the Government is about to take.

He added that residents and enterprises shouldn't feel worried about changes in the current economic situation because the Government's measures will greatly enhance efficiency.