The Hanoi – Ho Chi Minh City express railway will play a very important role in the industrialization and modernization of the country, Prime Minister Nguyen Tan Dung said recently.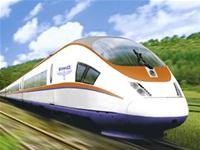 Vietnam will have a high speed railway from Hanoi to HCMC.
At a meeting of the Government Office, the PM assigned the Ministry of Transport to quickly complete an investment report to submit to the National Council to assess the project in August.

The Government will assess the council's deliberations before submitting a final draft to the National Assembly May next year.
After completion, the railroad, estimated to cost US$55.7 billion, will cut travel times between HCM City and Hanoi to just six hours, instead of 30 to 40 hours as present.
The 1,555 kilometer railroad will have 25 stations and is expected to carry 48,000 passengers a day when it opens in 2020 and 85,000 passengers by 2025.
Related articles:
Deputy PM says appropriate technology needed for high-speed trains
Vietnam Railway tracks ahead