Permanent Deputy Prime Minister Nguyen Sinh Hung has reiterated the Government's policy to restructure Vinashin on the verge of bankrupcy and make shipbuilding core of the national sea strategy for 2020 and more.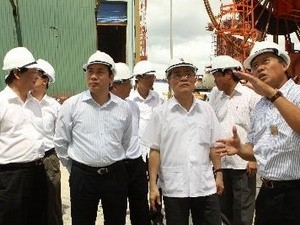 Permanent Deputy Prime Minister Nguyen Sinh Hung (L, 3rd) meets with members of the Vinashin Group on August 14. (Photo:VNA)
Hung made the statement at a working session between the steering board of the Vinashin Group Restructuring and several members of the group on August 14, emphasising that the Government would meet the group's demand for charter capital after recalculating basic need for each member of the group.
The steering board would work with creditors to find out the best solutions to the group's current financial shortages, he promised.
The Permanent Deputy Prime Minister called for reviewing Vinashin's list of projects and restructuring its subsidiary companies as the first step in its reconstruction process.
"A new Vinashin should focus on shipbuilding and maintenance, developing supporting industry and training a skilled workforce on shipbuilding in order to meet market demand, both at home and abroad.
"The group's capital structure would also be reformed to include State money and investments from creditors," Hung said.
His plan was supported by leaders of Hai Phong city and Quang Ninh province with promises of providing assistance for Vinashin subsidiaries stationed in their localities. They include the Ha Long shipbuilder, the Cai Lan steel making one-member limited liability company and the Bach Dang Shipping Industry Corporation, the leaders of which were also present at the working session.
The working session was held just one day after the Government decided to establish the steering board on Vinashin reconstruction to help the former shipbuilding giant recover from a huge debt of about 86 trillion VND (roughly US$47.7 billion).
Hung has been assigned to chair the steering board while another Deputy Prime Minister, Hoang Trung Hai, is his deputy in the board, showing the Government's strong determination to restructure the shipbuilder and develop the shipbuilding industry as well.