The Government has commenced a national program to prepare an action plan to help ministries, industries and localities to take advantage of opportunities and overcome challenges after the Viet Nam's accession to the World Trade Organization.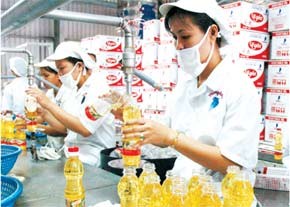 Vietnamese companies face stiffer competition as the country has joined the WTO (Photo: SGGP)
The National Committee for International Economic Cooperation on Monday began a series of conferences nationwide on the country's WTO commitments.
The first conference, held in Ha Noi, pronounced in detail all commitments in goods and services.
Deputy Prime Minister Pham Gia Khiem stressed that by joining the WTO, Viet Nam has had opportunities to expand its goods and service markets, but challenges include facing more fierce competition and adverse impacts on the society like a likely higher unemployment rate. WTO membership improves Viet Nam's position in the international arena, he added.
The series of conferences aim to help sectors, cities and provinces adjust investment targets and business plans against global competition.
The Party's Central Executive Committee plans to work out during its forthcoming conference a resolution on the post-WTO period for the country. Based on the resolution, the Government will map out a detailed action plan for each ministry, industry and locality to take advantage of opportunities and overcome challenges in the post-WTO period.