Vietnam plans to set up a overseas marriage brokerage to regulate a sector now run by illegal match-makers accused of humiliating women and fuelling abuse, the government office said Thursday.
Legalizing and regulating the sector would help protect Vietnamese women from domestic abuse, the government said on its official website.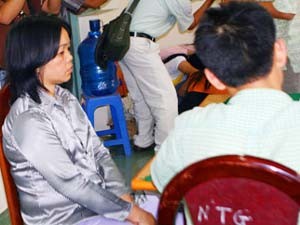 Vong Cam Lien, an illegal marriage broker, is questioned by police at a house in Ho Chi Minh City's Tan Phu District on Dec. 18, 2008. Police raided the house that day, finding 4 South Korean men use Lien's illegal marriage service. (Filed photo)
Deputy Prime Minister Pham Gia Khiem has ordered agencies to create a plan for the country's first accredited international match-making service in Ho Chi Minh City and submit it to Prime Minister Nguyen Tan Dung by the second quarter of this year, it said.
Mr. Khiem also asked Vietnam's embassies abroad to take "measures to protect the legitimate rights and benefits of Vietnamese citizens" in their marriage.
In recent years, the number of illegal marriage brokers has increased. There have been several reports of maltreatment of Vietnamese wives by their new husbands in South Korea and Taiwan.
In a raid last November, police found seven South Korean men, two Vietnamese brokers and 161 local women in a rented house in Ho Chi Minh City.
South Korea last June launched a crackdown on match-making agencies that use racial stereotypes or distorted information, seeking to regulate a trend that has led to cases of spousal abuse, divorces and some suicides.
Police in Vietnam have repeatedly raided events in recent years at which shadowy brokers have paraded young women before foreign potential suitors.