The Government Office should take the initiative in studying and making suggestions on policies and mechanisms, as well as the implementation of solutions on socio-economic development in line with practical requirements of each stage, said the Prime Minister.
Prime Minister Nguyen Tan Dung delivered the request at a ceremony which was organized in Hanoi on August 21 to celebrate the 65th anniversary of the Government Office (August 28).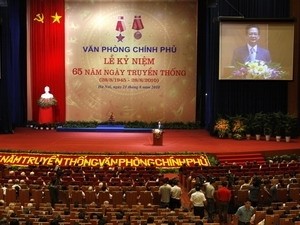 A ceremony organized in Hanoi August 21 to celebrate the 65th anniversary of the Government Office, August 28 (Photo: Vietnam News Agency)
The leader applauded efforts, great contributions and excellent achievements the Government Office has made during the past 65 years of construction and development.
In the years to come, the Office needs to better perform its role as an advisor for the Cabinet and the PM in coordinating the Government's operations and assist the PM in leading, directing and managing the Government and State administration agencies, he said.
PM Dung asked the Office to closely monitor and provide timely information about the situations of the ministries, agencies and localities, the national and international situations as well as public opinion so as to effectively serve the Government's instruction and management activities. The Office should also promptly provide the Government's information for the people and the press, he added.
While addressing the ceremony, Minister Director of the Government Office Nguyen Xuan Phuc said, in recent years, the Office has seen numerous improvements in terms of work efficiency to better serve the leadership and management of both Government and PM.
The Office has proved its leading role in implementing a project to simplify administrative procedures in State management. As a result, the first national database on administrative procedures has made its debut, aiming to cut at least 30 percent of the existing formalities and 30 percent of the administrative costs, Phuc stressed.
In recognition of its achievements, the Party and State have presented the Government Office with various noble awards, including the Golden Star Order, the Ho Chi Minh Order, the Order of Merit, third class, the Labor Medals of different classes and many other certificates of merit.