The Government needs to persist in implementing solutions outlined in Resolution 11 to curb inflation, stabilize macro-economy and ensure social welfare in the second half of the year, Dr. Tran Du Lich, deputy head of the Ho Chi Minh City National Assembly Delegation told Saigon Giai Phong newspaper.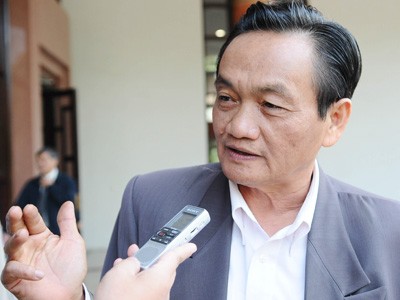 Dr. Tran Du Lich, deputy head of the Ho Chi Minh City National Assembly Delegation (File)
He said the Government should implement drastic yet flexible solutions and there must be better co-ordination between ministries, agencies and localities during implementation.

In addition, the Government should prepare an overall plan for restructuring the economy and tackling trade deficit.

Dr. Lich said the country's economy needs to gradually switch from subcontracting to production and develop an auxiliary industry. The financial system has to be restructured while the real estate market needs to be more buoyant.

Ministries and relevant agencies need to build tools and technical barriers to reduce import of consumer goods and continue to boost the "Be Vietnamese buy Vietnamese-made goods" campaign to build a consumer culture within the Vietnamese people to patronize only domestically-made products, he added.

Though the country has achieved much in the first half of the year, the economy continues to show shortcomings like high inflation, devaluation of the dong and high interest rates.

They were three unfeasible issues in the implementation of socioeconomic reforms during the first six months of the year.

Dr. Lich said the instability of the national economy originates from the economic structure, in which the economy is developed based on cheap labor, export of crude natural resources and subcontracting of work.

Solutions to stabilizing the macro-economy are only interim solutions, they do not help in solving the root cause, he added.

Another very important issue, he said, is that there is currently a drawback in the banking system and it needs restructuring. The total credit debt of the entire system has risen to 120 percent of GDP.

Dr. Lich said the inflation rate increased by 3.2 percent in April and began to drop in May. The consumer price index (CPI) will fall from July, therefore, the target of restraining the inflation rate of 17 percent this year seems feasible.

If CPI can reduce to less than 1 percent per month, it will help interest rates to lower gradually creating an advantage for enterprises that need funds, he added.

Regarding public investment, he said the Government intention to cut back public investment was meant to give priority to key and urgent projects.