Rice prices began to fall Monday throughout Viet Nam as the central and local governments have acted quickly to halt hoarding nationwide, which were coupled with rumors of rice shortage to push up the prices on the weekend.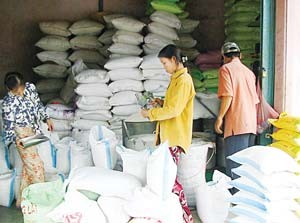 Rice is full at a stall in HCMC yesterday. Long queues of rice buyers no longer seen at shops as seen during the weekend fever (Photo: SGGP)
Prime Minister Nguyen Tan Dung yesterday ordered tough penalties against unlicensed rice traders whose speculation was behind the strong price increases.
Right at the beginning of the monthly cabinet meeting in Ha Noi yesterday, the Government leader told the Ministry of Public Security to investigation the situation and bring out tough punishments against speculators and those who had generated rumors. He asked the Ministry of Industry and Trade to crack down on illegal rice exports through the border.
In an urgent telegram on Sunday, the PM assured that the country had sufficient rice for both domestic consumption and export, and attributed the soared prices to speculation.
He has also instructed provincial leaders to disseminate information to the public on the sufficient supply across the country.
Reassurance

Mr. Truong Thanh Phong, general director of the Southern Food Corporation and chief of the Viet Nam Food Association, reiterated Monday that the nation is not short of rice and has sufficient for domestic needs.
"Viet Nam intends to export between 3.5 million and 4 million tons of rice this year," he said.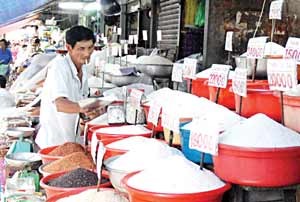 No buyer at a rice stall in a city market at a time on the Monday afternoon because of higher prices than in supermarkets (Photo: SGGP)
In HCMC, the local authority has ordered rice traders to open their outlets throughout the Reunification Day and May Day, April 30 and May 1, to sell rice to city dwellers. City Chairman Le Hoang Quan ordered suppliers and traders to increase rice supply. City police were assigned to probe speculation and the spreading of rumors of rice crunch.
Viet Nam is expecting bumper rice crops in the coming months. According to the Viet Nam Food Association, the Mekong Delta harvested 9.4-9.6 million tons of rice in this winter-spring crop, between 0.3-0.5 million tons higher than the pervious winter-spring crop. In the current summer-fall crop, the delta region expects total harvest of 7.3-7.5 million tons.
This year's total of the two crops is 16.5-17 million tons of unhusked rice, equal to 8.5-9 tons of husked rice. Meanwhile, Vietnamese exporters have so far signed selling contracts for about 2.2 million tons of rice (husked), with about 1.1 million tons delivered already. These figures prove sufficient supply in the country.