The government's proposals on tax exemption and reduction have raised questions from the National Assembly's Committee for Budget and Finance (CBF) on the effectiveness of the measures in boosting the economy.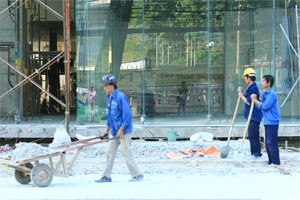 The government's proposed tax reduction for landlords of rent houses for workers and students, private kindergartens and food suppliers for workers is vital (Photo: Minh Tri)
SGGP Dau Tu Tai Chinh Newspaper has caught up with Tran Du Lich, deputy head of the Ho Chi Minh City NA deputy delegation, to interview him about the suggesting measures.
Tran Du Lich: I agree with most of the government's proposals, except for one on a 30 percent corporate income tax reduction.
I align with CBF's suggestion that the tax should be reduced for small- and medium-size enterprises (SMEs), footwear makers, textile firms, food suppliers, electronic spare part producers and public infrastructure builders only.
Dau Tu Tai Chinh: What is your opinion about the government's proposal on individual income tax reduction?
We should raise the taxable income level to support those who are really struggling to make a living, instead of considering increasing the tax threshold.
But many people say the tax reduction is too low. What do you think?
I think the reduction is crucial for people even though it is not much. Wage earners need and appreciate the government's supports during the difficult time.
Tax reduction also reduces costs, time and energy of both tax payers and collectors.
The government also asked NA to decrease 50 percent on lump-sum taxes from the third quarter to the end of the year, especially for landlords of houses and room for laborers and students. Do you think if this proposal is feasible?
Landlords of 90 percent of rent houses for worker and student in HCMC have made a really nice thing as they have promised not to increase the monthly rental.
Therefore, the government should offer them some tax incentives.
The National Assembly approval for the proposal will also be an encouragement of the legislature for taxpayers, who suffered severely impacts by the surging consumer prices.


CBF head Phung Quoc Hien
Some proposed measures on tax reduction and exemption are necessary. However, we should be very cautious at present.

The proposed measure on individual income tax exemption may not reach those in need.

The proposed tax exemption may also makes no difference for the economy as the number of taxpayers who qualify for the exemption is not much.

Do Hoang Tuan, Deputy Minister of Finance
I think the suggesting measure on reducing 50 percent of lump-sum taxes for is absolutely vital.

However, HCMC authorities should make sure that landlords of rent houses for workers and students will keep their promise of not raising rental.

Labor unions of local enterprises, meanwhile, should supervise workers' food supplying.