Deputy Prime Minister Hoang Trung Hai has instructed the Ministry of Planning and Investment to urgently guide and speed up local and central agencies to determine suitable fields, choose potential projects with the high ability of capital reclaiming, draw up an investment list under Public Private Partnership (PPP) form.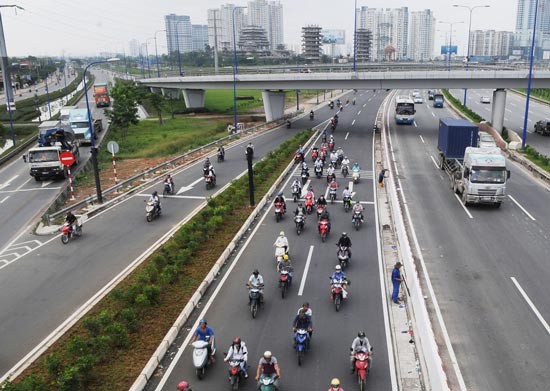 Hanoi Highway expanding is one of typical PPP projects in HCMC (Photo: SGGP)

He instructed the Ministry of Transport, Construction, Industry and Trade, and Agriculture and Rural Development to review the list of PPP projects in four potential fields.
Of which, the Ministry of Transport will select projects in highway, railway, seaport, airport fields while the Ministry of Construction will generate those in the field of solid waste and wastewater treatment and urban water supply.
The Ministry of Industry and Trade will choose projects in fields such as energy and wholesale markets and the Ministry of Agriculture and Rural Development will make its choice in rural clean water, small irrigation works, pumping stations, storage and afforestation.
Deputy PM Hai said that fund preparations for PPP projects have been done. Hence the Ministry of Planning and Investment should chair and work with relevant ministries to pick out the most feasible projects for implementation. Once having found investors, they should reclaim costs spent on the preparations of the projects to reproduce capital source for other potential PPP projects.
He commissioned the ministry to examine, synthesize and do statistics on the Government's financial duty in PPP projects that have been signed with investors to have an assistance mechanism for this kind of projects and ensure effective investment.
The ministries should organize an inspection over the implementation of PPP projects report to the Prime Minister next year, he added.