Ministry of Agriculture and Rural Development on Tuesday sent a proposal to Prime Minister Nguyen Tan Dung for the purchase of one millions tonnes of rice for stockpiling from the winter-spring crop this year.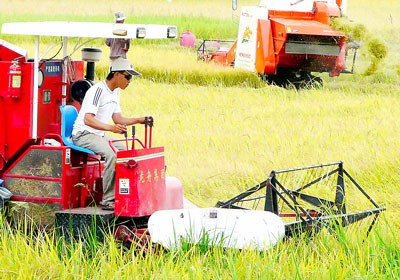 Harvesting rice in An Giang Province (Photo: SGGP)
The ministry expects the country rice output to reach 42.5million tonnes this year, a surplus of 7.3million tonnes over domestic consumption demand.  
According to the Ministry of Finance, the average rice price is expected to be VND3,400 a kilogram for the winter-spring crop in the Mekong Delta, where the price slid by VND500-600 a kilogram from early January.
In 2011, it prevailed at VND5,500-6,000 a kilogram, bringing farmers a 50 per cent profit margin.
Since February, the Mekong Delta has entered peak harvest time. Rice volumes are high while exports are facing difficulties.
As a result, the ministry has proposed to the Prime Minister to task the Vietnam Food Association to purchase one million tonnes of rice for stockpiling, aimed to assist farmers.
The rice purchase is expected to take place from March 13 to April 30. Businesses will be assisted with 100 per cent interest on bank loans.
The State Bank of Vietnam will instruct commercial banks to prepare enough capital for businesses to buy rice for stockpiling.