The government placed some proposals before the National Assembly yesterday, to reduce taxes and resolve issues plaguing businesses, in an effort to boost the economy.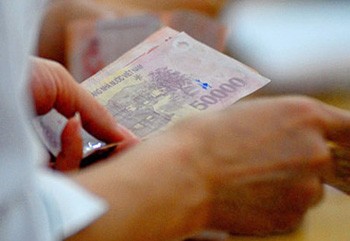 NA considering government proposals on tax exemption and reduction
However, the National Assembly (NA) Committee of Finance and Budgets said that the proposals need to be seriously considered and deliberated before implementation.
Specifically, the government proposed that the NA reduce 30 percent income tax for medium and small establishments, which provide employment for seafood processing, forestry, garment and shoe, electronic accessories and many other industries.
The government also asked NA to decrease 50 percent on value added tax and personal income tax from the third quarter to the end of the year, particularly for those letting rooms on rent to students and workers and to those running crèches.
NA should also reduce and exempt personal income tax on dividends for investment in stock markets and shares and on revenue from security transfers.
The government also proposed that NA apply exemption for individuals taxed by five percent on salaries and wages.
Phung Quoc Hien, chairman of NA, said that the proposed tax reduction and exemption should be carefully considered as it may prove ineffective at this time.
Hien said that exemption for people taxed by five percent has nothing to do with most residents as many don't fall in the tax payer bracket.
The total numbers of tax payers are only 172,000 in the administrative sector and about 679,000 in the business sector. These numbers are small compared to Vietnam's population of 86 million people.
On the other hand, since tax is not high, the exemption will merely serve as an incentive without bringing in any positive and visible economic benefits.
Tax reduction will also not benefit businesses as the main problems lie in shortage of capital and high interest rates.