The country's focal task in the second half of 2011 is to continue synchronously implementing measures to curb inflation, stabilise the macro economy and ensure social welfares.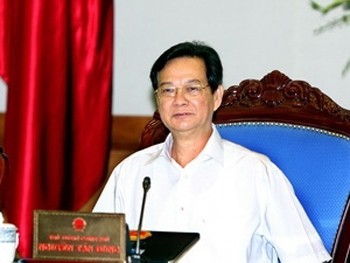 PM Dung chairs the meeting (Source:VNA)
Prime Minister Nguyen Tan Dung made the affirmation at the Government's regular online meeting with localities on July 1 to discuss the country's socio-economic situation in the first half of the year, the implementation of the Government's Resolution 11 and programmes planned for the six months to come.
The Government leader asked ministries, branches and localities to focus their efforts on keeping inflation rate at 15-17 percent, credit growth under 20 percent and trade deficit under 16 percent.
The nation must also strive to reduce budget overspending to under 5 percent of GDP and attain a GDP growth rate of around 6 percent this year, helping ensure social welfares and create a premise for development in the coming time, he stressed.
He also affirmed that the Government's consistent stance of maintaining a tightened, cautions and effective monetary policy with credit growth targeting production and export.
According to the PM, the Government has implemented a number of measures to support the development of small- and medium-sized enterprises, including extension of tax deadlines, tax reduction and exemption and increasing the minimum salary for employees in domestic and foreign businesses.
PM Dung also urged ministries, branches and localities to pay attention to administrative reforms, corruption fight, settlement of complaints and denouncements, and traffic accident prevention as well as external relations, security and defence and national sovereignty at sea.
At the meeting, Government members and representatives of localities agreed that in the first six months, the country saw encouraging achievements in curbing inflation, stabilising the macro economy and ensuring social welfares.
The foreign currency and gold markets have become stable with foreign exchange rate kept at an acceptable limit, foreign currency reserves improved and credit growth put under control, they said, adding that investment in poverty reduction, agriculture and rural development has been maintained while politics, security, defence and social order and safety have been strengthened.
Vietnam recorded a GDP growth rate of 5.57 percent and an export turnover of 49 billion USD, up 25.8 percent compared to the same period last year. The country's industrial production value increased by 14.3 percent while its agricultural production rose by 3.3 percent. The State budget collection reached 46.7 trillion VND.
All social welfare policies have been implemented effectively, especially those for poor people and families who rendered service to the nation, as well as vocational training, said Minister of Labour, War Invalids and Social Affairs Nguyen Thi Kim Ngan.
In implementing the Government's Resolution No. 11, the ministries, branches and localities have cut down over 3.8 trillion VND in regular spending and 80.5 trillion VND in investment.
According to Ho Chi Minh City People's Committee Chairman Le Hoang Quan, Ho Chi Minh City has maintained a high GDP growth rate and ensure social welfares thanks to its drastic implementation of Resolution No. 11.
However, the Government members said that the Vietnamese economy is still facing a lot of difficulties and challenges such as high inflation rate, high interest rates, a big trade deficit, decreasing investment attraction and the declining stock market.
Although the country's consumer price index (CPI) in June saw the lowest increase since the beginning of this year at 1.09 percent, the six-month figure rose by 16.03 percent compared to the same period last year.
Minister of Finance Vu Van Ninh said that inflation pressure remains heavy as high petrol prices are causing difficulties for the government's price management work.
Therefore, the adjustments of prices of essential goods such as petrol, electricity and coal should have roadmaps that suit the country's real conditions, he noted.