The Department of Competition Management ( DCM ) of the Ministry of Industry and Trade held a seminar on milk prices and possible price controls on July 7 in Hanoi.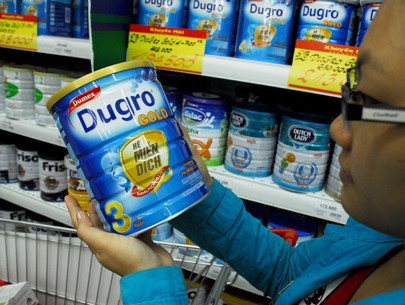 One of foreign milks sold at high prices in Vietnam compared to that in Thailand ( Photo; Tuoi Tre)
The DCM collected information on prices for 20 different varieties of milk by seven giant milk producers: Abbott, Mead Johnson, Nestle, Dumex, Friso, XO and Dutch Lady, all imported to Thailand, Malaysia, Indonesia, Singapore, South Korea and Vietnam.
The results show that prices of powdered whole milk in Vietnam are 20 to 60 percent, or in some cases 100 to 150 percent, higher than those in other countries like Thailand, Malaysian, and Indonesia.
According to Vu Thi Bach Nga, head of the DCM's Consumer Protection Unit, the average import tax of milk in Vietnam was no more than ten percent, which is very low compared to that of Thailand (fluctuating from zero to 40 percent).
The Ministry of Finance has directed the State Tax Administration to cooperate with the Price Control Agency to inspect milk taxes, as well as examine milk prices of some producers in the second quarter.
A report is being produced at the moment, said Vu Cong Chinh, deputy head of the agency.

To protect consumers' rights, Mr. Chinh also believed that appropriate authorities like the ministries of Industry and Trade, Agriculture and Rural Development, and Finance, and relevant agencies should cooperate to provide solutions, such as encouraging high quality milk producers to enter the Vietnam market to avoid monopolies in imported milk distribution, examining monopoly behavior and investigating milk quality.