Hundreds of people from across the Central Highlands' Dak Lak Province have rushed to a commune on recent days after a rumor about gold in rocks used to build a commune road.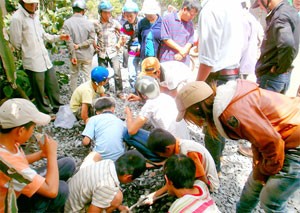 People gather on a road on Dak Lak Province to pick golden metal on rocks
The rumor started on July 3 after a scrap metal collector spotted golden metal seeds on a road in Hoa Thang Commune, Buon Ma Thuot Town of Dak Lak Province, and sit down to collect them.
Many street travelers followed her and nearly one kilometer of the street was crowded with people and vehicles after one hour.
The road, which leads to the Institute of Central Highlands Agriculture and Forestry, is under construction and the rocks were just dropped by the constructor, local Hoang Nam Company.
People gathering and mixing up the rocks for gold have hindered the construction and worsened the road condition.
Hundreds of people have brought hoes, shovels and flash lights. It was pouring on the night of July 3 but people put on raincoats to keep up their search instead of going home.
Pham Huu Tap, a commune official, said the road has been visited by people looking for gold every day since July 3.
Tap said he had to stay up all night to keep guard of his house, in case bad people made use of the chaotic situation.
The gold rush has attracted little children as well.
Nguyen Van Thanh, an 8-year-old local, said that he hided at home around two ounces and is coming back for more.
Thanh said some people have found as much as one kilogram.
However, many people were not attracted by the rush, saying that the metal is either not gold or just a little of it.
Tran Van Phuong, a local resident, said that he had brought a rock containing the golden metal to a gold shop owner, who said that the gold amount is little and almost has no value.
Meanwhile, a former gold digger Trinh Tien Thanh ensured that "the metal is not gold."
Thanh said he knows that for sure as he has experience digging gold almost all over the Central Highlands two years ago.
Quang Van Tuy, the police chief of the commune, said police officers came to clear the crowds on the night of July 3 but people kept coming back.
Tuy said the rumor also brought people from other districts.
The gold rush has not caused any bad consequences but the police are still persuading people to leave to maintain public order and security, he said.