Viet Nam's education system needs a comprehensive, profound, absolute, even revolutionary overhaul as the standard of education in this land lags far behind much of the region, General Vo Nguyen Giap wrote in a letter to the press yesterday.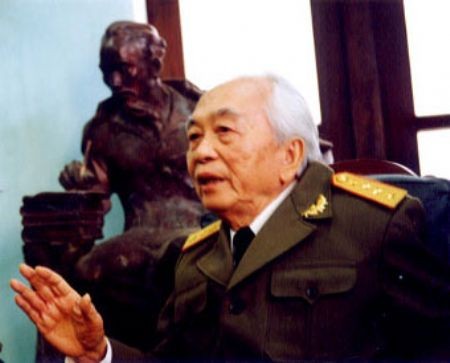 General Vo Nguyen Giap
There are no real goals or realistic policies as far as education is concerned, the ancient wartime leader wrote.
"Weakness can be seen in every direction, be it in the intellectual standard of the public, human resource training or the misuse of talented people," he wrote.
"Inadequate" was the word he used to sum up the present situation.
General Giap suggested a wave of reform had washed over education around the world since the 1980s to create a system that was in tune with the needs of the modern era.
He called on Vietnamese educators to learn from other countries, especially the USA and the EU members, and apply their findings here.
Six measures must be undertaken at once as a matter of urgency, he wrote.
First, the National Education Council must be refashioned to create a body able to keep up with the times and advise the government properly.
The council must gather enthusiastic educators and scholars with a profound knowledge of education, and it must operate democratically and respect different ideas.
Second, the standard textbooks for all levels must be ready as early as possible and used for several years, rather than being changed every year like now.
Third, the national education system must be made rational and effective, the lack of master's degrees should be addressed, and there must be an end to irrelevance in teaching and learning.
The government should increase the number of vocational schools to supply enough skilled workers for Viet Nam's industrialization and modernization, and never forget the dictum that "study must match reality".
Fourth, the government should be active in discovering, recruiting and training talent to address the lack of top-notch scientists. Even healthy pensioners of scientific distinction should be invited to participate in the workforce again.
The government's policy should be such as to attract the best scholars and scientists, be they expatriate Vietnamese or otherwise, to teach in the nation's universities or engage in research.
The fifth vital measure is more and wiser spending on education, like upgrading and modernizing information resources, testing labs, and centers for training, setting examinations, and teaching IT and foreign languages.
Last but not least, the general suggested doing away with tuition fees so that everyone could have the chance to study and learn, as expressly desired by Ho Chi Minh himself.
After all, he pointed out, Cuba is a poor country yet it has free education, not to mention free medical care.
General Vo Nguyen Giap was a teacher of history and geography before he became a soldier, rose to the rank of general and led the northern forces in the war of independence.