The most revered General Vo Nguyen Giap becomes 100 years old on August 25 and Vietnamese leaders sent congratulations to the general Tuesday.
President Nguyen Minh Triet, Prime Minister Nguyen Tan Dung and National Assembly Chairman Nguyen Phu Trong wished the legendary general good health and longevity on his 100th birthday.
The leaders showed their deep gratitude for the general, principal commander in the 1954 Indochina war and the Vietnam war, and his contributions to the struggle for national liberation and reunification, as well as national construction and defense.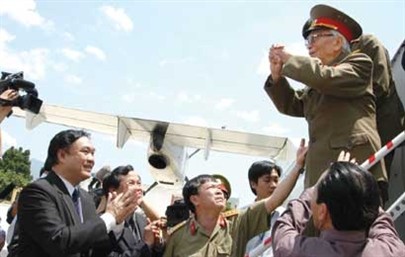 (Vietnam News Agency file) General Vo Nguyen Giap (highest) visits the northern province of Dien Bien in 2004 on the 50th anniversary of the victory against the French at the Dien Bien Phu Battle.
They affirmed the Party, State and people's determination to build the country and reach the goal of a prosperous people, a strong nation, and an equitable, democratic and civil society.
On Tuesday, National Assembly, Government and Vietnam Fatherland Front Central Committee leaders visited the general and congratulated the former military commander on his birthday.
On behalf of the government, PM Dung said the government always remembers and speaks highly of the general's significant contributions to the cause of national liberation and reunification as well as the country's construction.
He stressed the government, the Party and people will continue to unite to make the country more prosperous as late President Ho Chi Minh desired.
In response, Gen Giap thanked the leaders for their attention and expressed his belief that under the leadership of the Party and the State, the country would continue to reap greater socio-economic achievements.
Vo Nguyen Giap is acknowledged as one of the world's greatest generals.

He is among the 59 greatest military leaders portrayed in Great Military Leaders and Their Campaigns by Jeremy Black, published by Thames & Hudson in London in 2008, besides Julius Caesar, George Washington, Alexander the Great, Hannibal, Saladin, Ghengis Khan, Napoleon, Wellington, Ulysses S. Grant, Erich von Manstein, and Georgy Zhukov.