Petrol price in Vietnam rose considerably on Thursday with an increase of VND2,900 per liter of A92 gasoline, following soaring price in the world market.

The new prices of gasoline, diesel, oil and mazut oil took effect as of 10 am, following a Ministry of Finance decision.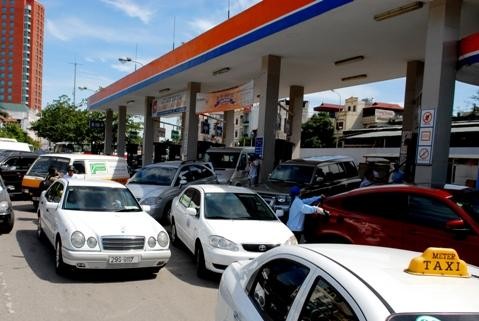 Cabs wait for gasoline filling at a petrol station in Hanoi before 10 am (time for increased price) on Thursday, February 24, 2011 (Photo: VNExpress)
The price of A92 gasoline increased by VND2,900 to VND19,300 per liter, a new record high, which is higher than the 2008 record of VND19,000 per liter.
The new diesel price is VND18,300 per liter, VND3,550 higher than early Thursday.
The kerosene price went up to VND18,200 from VND15,100. That of mazut oil increased to VND14,800 from VND12,690.
Thursday's increases are the highest in the past three years.
In Asian trade Tuesday, Brent North Sea crude for delivery in April gained US$1.53 to $107.27 per barrel in the afternoon, surpassing two-year highs reached on Monday.
New York's main contract, light sweet crude for March delivery, surged $7.20 to $93.40 per barrel on its last trading day.
In another development, Vietnam will raise electricity prices by 15 percent to help attract more investment for new power plants.