The rising cost of fuel prices has added to the many woes of fishermen in the Central Coastal Region, who already have to cope with numerous hardships and obstacles, unpredictable weather conditions being one of them.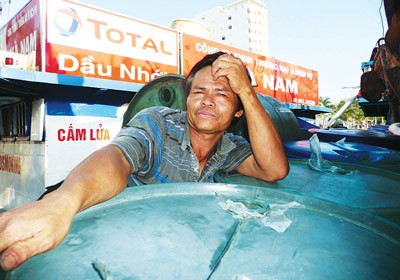 A fisherman in Quang Ngai Province worries about rising fuel costs (Photo:SGGP)
Huynh Van Hoang from Quang Nam Province said that on each trip out to sea he spends about 2,000 litres of gasoline, besides having to cope with other overhead costs as well.
Many fishermen cannot afford to go out to sea anymore because of high fuel prices, while fish prices remain the same.
Most fishing boats work collectively in groups of five to seven, with a common practice being to go out to sea together but for only one fishing boat to return to shore with the haul, so as to save fuel. Now fishing boats are going out to sea on fewer occasions and spending longer hours fishing.
Most of the fishermen are now finding it difficult to cover expenses, and invariably are in debt.
Besides lowering fuel costs, many fishermen now hope that the government will step in to help resolve many of their issues such as bank loans to clear debts and preferential loans to sustain them in their profession.