Bac Tra My District in the central province of Quang Nam was shook by four recurring earthquakes followed by loud explosions from 9pm on Saturday until noon the following day, according to Dang Phong, chairman of the district People's Committee.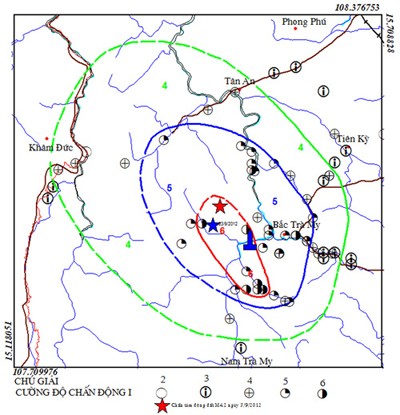 Blue star shows earthquake epicenter in Bac Tra My District (Photo: Global Physics Institute)
Four strong earthquakes lasting five to eight seconds each spread panic among residents in Tra Doc and Tra Bui Communes of Bac Tra My District.
The first earthquake at 9pm on Saturday was of comparatively less intensity than the following three at 1.57am, 3.14am and 11am on Sunday.
The first and third tremors on Sunday were of the strongest intensity to ever take place in Bac Tra My District, lasting about eight seconds each and accompanied by loud explosions that shook houses and furniture inside. People rushed out of their homes in panic and fear.
According to Mr. Phong, earlier strong quakes occurred in Tra Doc Commune but this time they shook Tra Bui Commune as well, where most of the population comprises of ethnic minority people.
The provincial People's Committee has submitted a report on the earthquakes to relevant ministries and central departments.
The Institute of Global Physics, however, only recorded one quake of 4.1 on the Richter scale at 10.57am on Sunday with its epicenter about seven kilometers from Song Tranh 2 Hydropower Plant dam.
The quake caused tremors of upto Level 6 on the MSK-64 scale in Bac Tra My Town and adjacent areas.
Related article:
Three more quakes shake Quang Nam Province
Song Tranh Hydropower Plant needs close monitoring: Expert