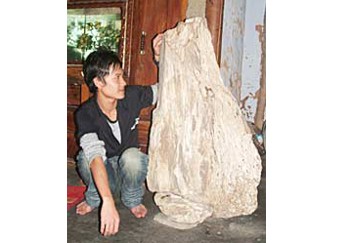 The fossilized trunk found in Phu Yen Province

A man in Phu Yen province found a fossilized trunk when he was looking for ornamental rocks and trees on a mountain near his house.
The fossilized trunk is over one meter high and has a diameter of over 60 centimeters. Its rings and cuts are still clearly visible.
Another man in Kon Tum province also found a fossilized trunk January 2. The trunk was believed to have been used to build a communal house.