Singaporean Mentor Minister Lee Kuan Yew and his wife met with Viet Nam's former Prime Minister, Vo Van Kiet, on Thursday on the first day of his visit to Ho Chi Minh City.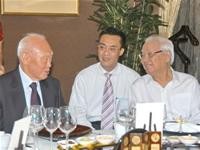 Vietnamese former PM Vo Van Kiet (R) talks with his Singaporean counterpart Lee Kuan Yew (L) at the reception in Ho Chi Minh City's Sheraton Hotel on Jan 18 (Photo: Tuoi Tre)

Mr. Vo Van Kiet, with his usual open-hearted manner, talked with Singaporean officials before the reception. He said he doesn't know how much Singapore has changed since he hasn't been there for 10 years. Singaporean Minister of Trade and Industry, S. Iswaran, replied modestly that the country has only changed a little bit in the last 10 years while Viet Nam a lot.

Answering Mr. Kiet's questions about Singapore's plans for the future, Minister of Finance and Transport, Lim Hwee Hua, said they are considering some cooperative projects on communications and IT with Viet Nam. "Viet Nam possesses a lot of potential", said Mr. Iswaran.

Mr. Kiet went on to speak highly of the two country's educational ties, adding Mr. Lee's educational policies during his stay in office were of great significance to Singapore's development.

He said he always remembers Mr. Lee's advice to him: "If you win the education race, you will win the economic race." He added that "Viet Nam is facing many difficulties, and can learn a lot from Singapore, especially when making reforms to the leadership staff".

"It may take a long time for Viet Nam to catch up with Singapore. We will have to run quickly to catch up, and we need the help of international friends like Singapore", he said.

The atmosphere got warmer with the presence of Mr. Lee. The famous leader, who is not often generous with his praise, said "Viet Nam has been moving forward" before sitting down to talk with his friend and former counterpart.