People's Court in Tan Phu District has sentenced Tran Thi Xuan Nu, 30, to 4 years in jail for locking a 4-year-old boy in the elevator. This incident took palace at Hoa Lan Pre-school last year, causing social resentment.
She was charged with "deliberate wounding a child."
Nu, born in Dong Thap province, was dismissed from her job after the incident. The trial pleaded her guilty to the assault she committed on September 17, 2010 when she was assigned to take care of 23 boys, all 4-5 years in age, including Le Quang Vinh, born on Dec, 19th, 2006 who was less than 4 years old at that time.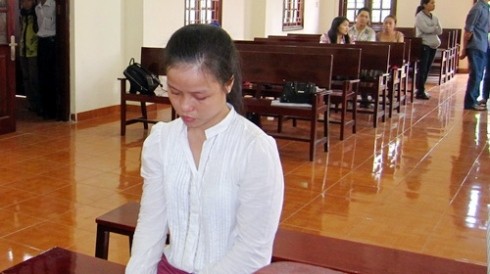 Tran Thi Xuan Nu, former baby-sitter of the Hoa Lan Preschool, at the Tan Phu District People's Court
When Vinh failed to feed himself, Nu lost her temper and decided to punish the boy by taking him into the lift and leaving him there alone. Nu then pressed the button for the lift to go down to the ground floor.
After walking down the staircase and opening the door of the elevator, Nu found Vinh lying on the floor with blood on his body.
She took him to hospital for emergency treatment and the doctors later concluded that Vinh suffered serious wounds with a permanent injury rate of 38 percent.
Nu later gave Vinh's family VND140 million (US$6,800) as compensation.
After the incident, the boy has been fearful of the dark and refused to go to school again until now, the boy's parents said