A delegation of the Ministry of Foreign Affairs, headed by Minister Pham Binh Minh on August 16 handed over 3.24 billion VND to the Vietnam Association of Victims of Agent Orange/dioxin (VAVA).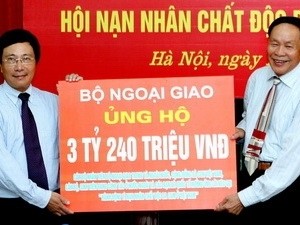 The Ministry of Foreign Affairs donates VND 3.24 billion to the VAVA.
The money was raised by the Ministry's staff and Overseas Vietnamese as gifts for AO victims in the country.
Minister Minh said AO victims and the legacy of the toxic chemical have been always on the agenda at working sessions of Vietnamese high-level delegations with the concerned sides.
The Foreign Ministry had coordinated closely with VAVA in the struggle for justice for AO victims and in seeking support from the world community to remedy AO consequences.
He expressed his wish that more countries and international organisations would support Vietnam with both spiritual and material aid for its ongoing struggle for justice and overcoming the aftermath of the disaster.
The Foreign Minister said that the Malaysian and Indian governments had pledged to provide wheelchairs and scholarships to children of Vietnamese AO victims.
At the Aug. 16 ceremony, VAVA President Nguyen Van Rinh described the donation as a great source of encouragement and an effective contribution to helping reduce difficulties for AO victims.