Many foreign medicines have increased their prices quite drastically since July 7, causing patients like Mrs. Pham Thi Kham, from Ben Cat District of the southern province of Binh Duong to feel understandably depressed and comment, "It was just VND164, 000 a box (around US$8) a few days ago, now it is VND179, 000 (US$8.7), how unreasonable!"
Price hike-a great shock!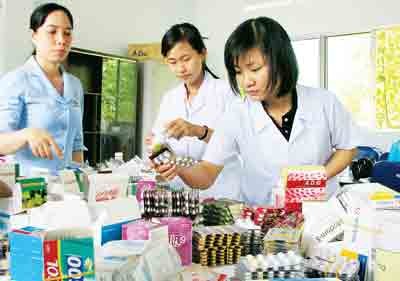 While domestic medicine prices are subject to control, foreign medicine prices continue to increase prices (Photo: SGGP)
According to an assistant from Tuan Pharmacy at Thuan Kieu Street in District 5 of Ho Chi Minh City, the price at the moment of French-made Daflon 500mg, a popular medicine to unclog veins, is VND179,000-180,000 a box (about US$8.7), 10 percent higher than 3 weeks ago. Gynofar 250ml, a gynecological cleansing fluid, is also 20percent higher than 2 weeks ago (from VND6, 000 to 7,500 or US$0.29 to US$0.37).
At the Ngan Ha 5 Pharmacy nearby, Telfasf HD 180mg for skin allergy increased to VND7, 500/pill (US$0.37) and Fastum Gel to VND54, 000/tube (about US$2.63). On the medicine street at Hai Ba Trung in District 1 prices were hiked as well.
Many wholesalers on To Hien Thanh Street in District 10 also complained about this drastic rise to distributors as it happened only one month after the price stability program.
Furthermore, almost all the notices of price increase were announced by telephone, a method to avoid government control. Most medicines with a price hike belong to specialized group for cancer cure, impotency, hepatitis and some categories of antibiotic and multi vitamins.
Of late, the Vietnam Pharmaceutical Companies Association has acknowledged a 5 -10 percent increase in medicine prices, mostly foreign ones.
Ineffective Cost Control Program
The Ho Chi Minh City government has been implementing a cost control program citywide for two months but only on domestic medicines which rake in only a small profit.
Tu Phuong Pharmacy in District 7, one of the first pharmacies to implement the program, announced that most medicines on the program such as antibiotics, anti-inflammatory, cardiovascular and blood pressure medications are used widely.
It is worthwhile to know that these medicines, domestically made, are of GMP-WHO Standards and cheaper than foreign ones. For instance, Paracetamol 500mg of F.T.Pharma for flu is only VND216/pill compared with VND245/pill of Sanofi-Aventis Pharma; or Euxamus 200mg for cough of Euvipharm is VND420/pill while the one of Stada-VN J.V.Co. is VND500/pill.
Another example is the cardiovascular medicine Ladovax of Euvipharm at VND7, 900/pill (US$0.39) whereas Plavix, the same kind of medicine, of Sanofi-Aventis Pharma is VND20, 790/pill (US$1.1) or Clopistad of Stada-VN J.V.Co. at VND9, 504/pill (US$0.46).
Similarly, the antibiotic Ofmautin 625 of Domesco Medical Import Export Corp. is VND6, 195/pill (US$0.3) but the one of GlaxoSmithKline is VND11, 760/pill (US$0.57).
The director of a domestic pharmaceutical criticized that "It's unfair to control only the prices of domestic medicine!"
Ms. Huynh Thi Lan, general director of Mekophar Chemical Pharmaceutical Co. said that "Despite facing the same difficulties, domestic pharmaceuticals cannot raise prices as easily as their foreign counterparts because of authorities' control. Meanwhile, to avoid government attention, foreign companies don't usually announce these rises publicly or often."
According to Associate Prof., Dr. Pham Khanh Phong Lan, deputy director of the Ho Chi Minh City Department of Health, the department has asked medical inspectors to look into the problem and panelize offenders.