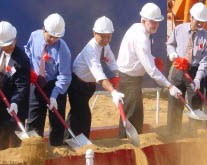 A groundbreaking ceremony for a foreign company's factory in an industrial park in Ho Chi Minh City
The Party Committee of HEPZA, Ho Chi Minh City Export Processing Zones and Industrial Parks, on February 8 celebrated the 76th anniversary of the establishment of the Communist Party of Viet Nam, which is February 3.
The committee presented the badges of 40 years in the Party to three members of the committee and officially recognized their contributions to the development of the Party. Besides, the committee sent good appraisals to 109 Party members with 20 and 30 years in the Party.
The committee has over 400 members now. In 2006, HEPZA expects to set up six Party cells at foreign-invested enterprises in the export processing zones and industrial parks, and to admit 70 new Party members or more.