Vietnamese President Nguyen Minh Triet on September 11 was welcomed in New Zealand's capital city of Wellington with a haka, the Maori ceremonial greeting.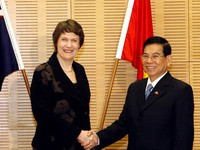 New Zealand PM Helen Clark shakes hands with Viet Nam's President Nguyen Minh Triet in Wellington, Sept. 11, 2007.
He began his first ever visit to New Zealand with a meeting with General Governor Anand Satyanand where he reaffirmed that Viet Nam has always treasured the relationship with New Zealand and hoped to ratchet up cooperative ties with the country in the near future.
Later, President Triet held talks with New Zealand Prime Minister Helen Clark, which focused on how to push up cooperation between the two countries in politics, trade, investment, ODA, education and training, tourism, labour affairs, science and technology, and defence.
Regarding political ties, the two leaders agreed to exchange visits on a wider scale, ranging from the government, state, national assembly agencies to mass organisations in order to promote mutual understanding and friendship. They expected the move would bring in new cooperation opportunities for their countries as well.
A political consultancy conference between the two foreign ministries was also agreed upon which should take place in early October.
Discussing economic issues, the two leaders agreed that the Viet Nam-New Zealand Economic Joint Committee will hold its second meeting in Ha Noi in October to seek ways to further raise the trade between the two countries, which reached US$214 million in 2006.
PM Clark promised New Zealand will aid Viet Nam in training English language teachers as it will also assist the country in implementing the project on improving the teaching and use of the English language in the educational sector as a whole.
According to official statistics, over 2,000 Vietnamese students are currently studying in New Zealand.
The talks also touched upon scientific and technological collaboration, especially in bio-technology and the environment where New Zealand is strong.
Regarding cooperation in defence, the two sides agreed that a defence consultancy meeting will be held soon in late September this year.
In the talks, President Triet welcomed New Zealand's supports for Viet Nam's run for a non-permanent seat on the United Nations Security Council for the 2008-09 term and promised future support for New Zealand in return for backing its bid to become a member of the United Nations Security Council.
Later in the day, President Triet met with MP John Phillip Key, the opposition party leader, and talked with students and lecturers at the University of Victoria and representatives of the Viet Nam-New Zealand Friendship Association.
As scheduled, President Triet will wrap up his visit on September 12.