According to sources from the Ministry of  Foreign Affairs, Vietnam Foreign Minister Pham Gia Khiem will lead a delegation to attend the 44th ASEAN Ministerial Meeting (AMM 44), the ASEAN Post Ministerial Conferences (PMC), and the 18th ASEAN Regional Forum (ARF 18) Meeting. This important conference will be held in Bali, Indonesia, from July 19-23.
FM Khiem, who is also Deputy Prime Minister, will discuss measures and orientations to speed up the building of the ASEAN Community, step up connectivity and raise relations between ASEAN and its partners together with his counterparts from other ASEAN nations and ASEAN dialogue partners. They will also exchange views on international and regional issues of mutual concern.
These meetings are seen as a preparation for the 19th ASEAN Summit and other related summits scheduled to take place in Bali, Indonesia, in November, 2011.
Deputy PM and FM Khiem is expected to carry out a series of bilateral activities on the lobby lines of these meetings.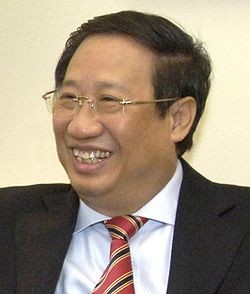 Vietnam Foreign Minister Pham Gia Khiem
Apart from these diplomatic activities, the ASEAN countries also enhance cooperation in military field. The fifth ASEAN Naval Chiefs' Meeting (ANCM-5) is to take place on July 27, with the purpose of  sharing views and discuss cooperative measures to respond to security challenges in the region, said a Vietnamese vice admiral.
This was the first time Viet Nam was chosen to host the defence cooperation event, Vice Admiral Pham Ngoc Minh, Vice Commander of the Viet Nam People's Navy said in Hanoi on July 18, as he introduced the ANCM-5 agenda.
Themed, "ASEAN Naval Cooperation for maritime peace and security", the meeting will draw the participation of naval commanders from nine ASEAN member countries and the Lao defence attache in Viet Nam .
With a different focus to the four previous meetings, ANCM-5 aimed to raise responsibility and define the importance of cooperation between naval forces of each ASEAN member, in maintaining peace, stability and development in the region, according to Minh.
ANCM-5 would be a chance to show the role and responsibility of host Viet Nam in promoting cooperation between the Vietnamese navy and navies of other ASEAN members, contributing to increasing friendship while building mutual confidence and understanding.
Participants were expected to discuss Viet Nam 's initiatives for ASEAN naval cooperation and the exchange of young naval officers between ASEAN countries.
At the event, the participants will register their cooperative activities for 2011 and 2012. Viet Nam will host an exchange of young naval officers among ASEAN countries, scheduled for early 2012, according to the Admiral.