The steel flyover in Vung Tau roundabout in the southern province of Dong Nai opened to traffic on January 19.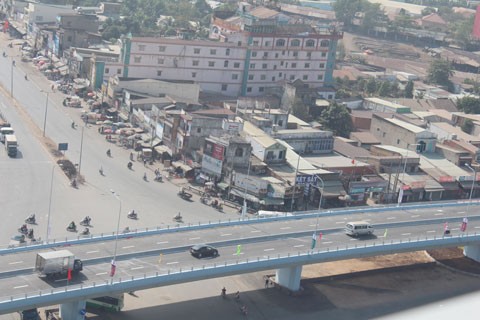 The flyover in Vung Tau Roundabout in the southern province of Dong Nai (Source: NLD)
The fly-by is designed for motorbikes, cars and buses weighing up to 30 tons traveling as fast as 60 kmph. The monstrous highway has four lanes, 16 meters wide and 558 meters long.
The overpass is part of VND1,648 billion (US$78 million) project by the Dong Nai Bridge Project.
On the same day a section of Hoa An Bridge in the central province of Ha Tinh was opened to traffic. The VND260 billion (US$12.3 million) project comprises of two lanes.

The Ministry of Transport and the People's Committee in the province expanded project to National Highway 1A on January 19. The project will cost VND2,434 billion, loaned from Bank of Investment and Development of Vietnam.
It is 35.1 kilometers long and 20.5 meters wide and is designed with six lanes allowing vehicles to travel up to 80 kmph.