Aficionados of Mai Anh Dao blossom (Prunus Cesacoides), a special kind of cherry blossoms in the mountainous city of Da Lat, are unhappy this year because they can not enjoy the blossom which usually flowers around Christmas and New Year.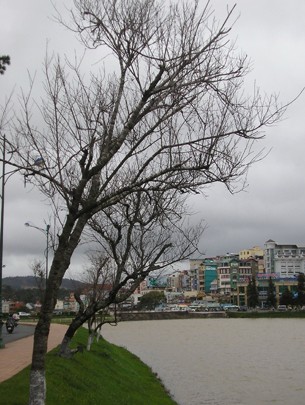 Rows of the flower along the Xuan Huong lake are budding (Photo: TTO)
Due to unseason weather the blossom will bloom later than usually but, luckily, it is believed to flower in time for Tet (Lunar New Year).
At present, rows of Mai Anh Dao trees along the Xuan Huong lake are budding while some trees along the corners on Le Hong Phong, Ba Thang Tu and Nguyen Du streets have some flowers.
Tourists hope to enjoy the scene of Da Lat, a beautiful central hill city, decorated with blossoming Mai Anh Dao in surrounding valleys and pine hills, and trees reflected in the lake.