Four hours of torrential rainfall last night in the Ninh Son District of the central province of Ninh Thuan caused severe flooding in most parts of the district and serious damage to properties and farms.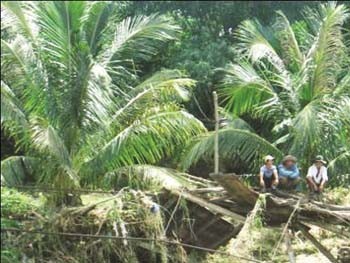 Floodwaters collapsed a suspension bridge in Luong Son Commune (Photo: Thanh Nien)
Floodwaters collapsed three bridges, devastated 30 hectares of rice and vegetable crops that were ready for harvest and swept away hundreds of chickens from river banks in this mountainous.
According to district leaders, this has been the biggest ever flood in recent history. The People's Committee in the district has instructed schools to temporarily shut down and asked relevant authorities to ensure the safety of residents and property.
In related news, floodwaters in the Mekong Delta have risen higher over the last few days, moving up at an average of 5-7cm per day, especially along the upper reaches of the river.
According to the Hydro Meteorological Center in An Giang Province, water levels in the Tien River along Tan Chau town were at 3.76 metres, while floodwater levels have been as high as 3 metres in the Hau River in Chau Doc District.
Huynh Thanh Phong, an official from the flood and storm prevention committee in An Phu District of An Giang Province says that fortunately the summer-autumn rice crop harvest is now complete in this region. The district has also fortified its dikes, drainage systems and installed pumps to prevent flooding of rice fields.
Local authorities have made arrangements to transport students to schools by boats in the flooded areas. Rescues teams are on stand by in the more vulnerable areas along the rivers and canals.