The Center Steering Committee for Natural Disaster Prevention & Control said up to 16 pm August 18, the rainfall in the northern and north central region reduced at 10 mm.
However, the floodwaters on the upper section of Ma, Ca River have still kept rising.

Authorities from the provinces of Son La, Hoa Binh, Yen Bai, Phu Tho, Ninh Binh, Thanh Hoa Nghe An said floods brought by typhoon Bebinca killed 8 people and 2 missing. The functional forces continued their efforts to searching for two missing.
Besides, authorities reported 21 houses were collapsed; 1,323 others flooded; 202 households moved out of dangerous zones urgently; about 7,394 animal died (mostly in Nghe An province); 723 hectares of aquaculture were damaged.
Many national roads crossing Son La, Yen Bai provinces were blocked due to landslides. The committee asked local authorities focus on searching for missing people and overcoming the damages caused by the flooding, landslides ensuring the safety of people.
The board warned about the ongoing flooding in Mekong Delta region as the water level on Tien River at Tan Chau Station reaches at 3.72m above warning level one; at Chau Doc Station on Hau River is 3.23m. It is predicted the water level upstream Mekong river will change in accordance with tides.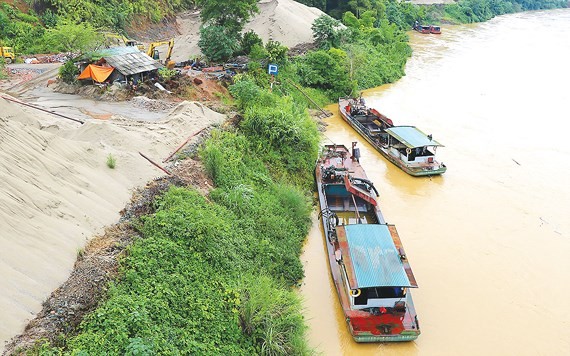 On August 25, the water levels will reach its peak on Tien River at Tan Chau Station at 3.9m; at Chau Doc Station on Hau River at 3.4m. the possibility of floods in lowland areas and alongside the river and areas unprotected by the dyke systems in An Giang, Dong Thap and Long An provinces are forecast to occur.
On the other hand, Nghe An province's the provincial committee for Disaster Prevention & Rescue, Search said in Nghe An province, there were 5 dead and one missing people during the last flooding. Heavy rains and floods collapsed 19 houses, 1,928 flooded houses, 247 households moved out of dangerous zones; 3,780 hectares of rice and 1,274 hectares of corn were inundated and 22,527 km of roads was damaged by landslides.
In Thanh Hoa province's Thieu Duong commune, on August 18 at 16pm about 2,200 households and their property were moved to safer places due to the water level on Ma River was rising quickly.