A heavy rain Tuesday raged in the northern province of Bac Kan, causing a flood that wreaked destruction on facilities and left at least 9 dead and dozens missing.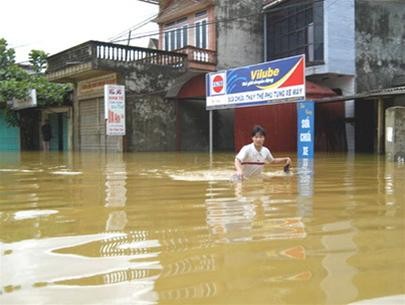 Heavy rain causes flood in the northern province of Lai Chau
Over 2 tons of rice was swept away by floodwater. Around 60 ha of cropland were submerged and hundreds of houses were ravaged by the pouring rain previously.

Over 70 houses were inundated, some of which were reportedly swept out in Tuyen Quang, the neighboring region of Bac Kan.

More than 1,000 ha of crop fields were badly damaged as the water level in Lo River was up to one meter.

Torrential rain in Cao Bang has wiped out 70 houses and caused much loss to farmers, said a local. A 14 year-old child was reported missing.

Nearly 300 houses are in flooded as water overflowed in Lang Son province, a nearby area of the storm-affected region.

Thai Nguyen province, where heavy rain did not affect most, also faced flood from other area. Some roads in the locality were badly eroded by the water, halting traffic for hours. Over 50 houses and 200 ha of field were in water.

The flood has so far killed 10 people, submerging nearly 700 houses and ravaging over 1,500 ha of cropland. Residents of the above-mentioned flood-raged provinces have now been evacuated to the safety, local authorities said.

The Central Steering Committee for Flood Control and Prevention issued late Tuesday an emergency directive asking affected provinces, cities and relevant agencies to swiftly deploy necessary measures to combat the floods.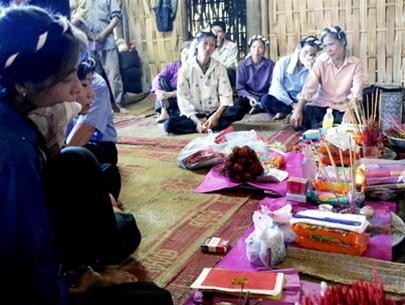 A family whose three relatives reported missing in Bac Kan province
According to the directive, people who are living and working in flood-affected areas must be warned about the forthcoming floods in order to adopt suitable protection measures.

The authority declared emergency late Tuesday, calling locals to harvest in low fields as soon as possible.

On the same day, the Ministry of Health issued emergency message calling for the assistance to the local health departments.

The Ministry of Agriculture and Rural Development has asked the Government to offer VND15 billion to cope with the Hau river in bad landslide.