Heavy rainfall for the last few days has triggered massive flooding in the central provinces of Nghe An, Ha Tinh and Quang Binh, resulting in the death of five people.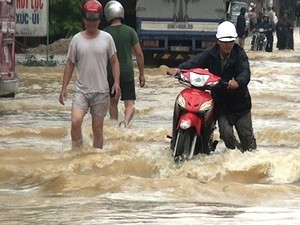 Floodwaters flow over Highway 1A in the central region (Photo: VNA)
Vi Tan Hoi, deputy chairman of the People's Committee in Tuong Duong District of Nghe An Province, said that continuous non-stop rainfall has led to flooding in Mai Son Commune and also inundating surrounding residential houses.
Floodwaters submerged secondary and primary schools and the People's Committee office in Yen Tinh Commune. Local authorities had to mobilize rescue forces to remove furniture and belongings from Cap Chang Village to the commune Cultural House.
 
Students in other communes like Nhon Mai and Yen Na could not go to school and 37 households had to be evacuated to temporary shelters, because of threat of landslide at Pu Cam Mountain in Xop Mat Village of Luong Minh Commune.
With the Nam Non River rising rapidly, the Ban Ve Hydropower Plant will be releasing floodwaters at 340-1,000 cubic meters per second this morning, September 7.
Soil debris and rocks have rolled down from the mountain to block sections of Highway 7 that connects Con Cuong, Tuong Duong and Ky Son Districts, blocking all ongoing traffic.
Parts of Highway 48 linking Dien Chau with Nghia Dan, Quy Chau and Quy Hop Districts are also under floodwaters. Several streets in Vinh City were also submerged.
Farmers have been forced to early harvest rice under the rain in Yen Thanh, Do Luong and Hung Nguyen to prevent more losses. Half of 400 hectares of rice crops have been flooded in Hung Nguyen District as of Thursday afternoon.
By 8.30pm last night, torrential rain and flooding had killed three people in Nghe An Province.
In the last two days, rainfall of upto 400mm drenched Huong Khe District of Ha Tinh Province. 
Floodwaters have circled 1,500 houses and cut off traffic along several roads in the district, where 9,000 students from 36 out of 74 schools have had to stay at home.
More than 800 hectares of rice crop, 500 hectares of fruit orchards in Huong Khe District and 25 hectares of rice cultivation in Vu Quang District are lying under floodwaters.
So far, two deaths have been reported in Ha Tinh Province.
In Quang Binh Province, a fishing boat was overturned by high waves on Thursday. The border army station in Nhat Le District immediately sent out a rescue and brought in five fishermen from the boat to safety after two hours of search operations.
The ecotourism center at the Phong Nha-Ke Bang National Park has stopped receiving and taking visitors as floodwaters have risen far too high.