HA NOI (VNS) — Deputy Prime Minister Hoang Trung Hai has urged the Ministry of Agriculture and Rural Development to strengthen oversight of the nation's fishing ports and storm shelters for fishing boats.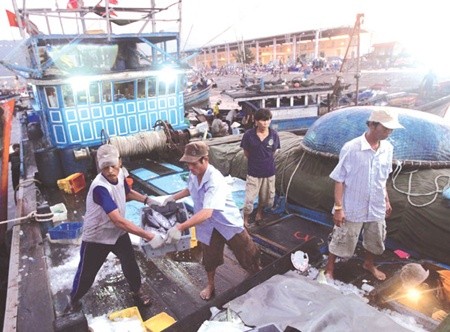 Fishermen unload fish at Tho Quang Fishing Port in Da Nang. Coastal provinces have been instructed to strengthen fishing ports as part of a long- term plan for the sector. — VNA/VNS Photo An Dang
The request is part of a long term plan to improve fishing ports across the country in the lead up to 2020 and with a vision to 2030. The project will also see revisions to storm shelter planning to align with the national master plan on fisheries development.
Deputy Prime Minister Hai also said coastal provinces and cities should look to speed up efforts to survey, plan and build fishing ports and shelters to meet infrastructure demands.
The Agriculture Ministry will collaborate with the Ministry of Planning and Investment on issues relating to funding allocation and public relations efforts to improve awareness of storm management skills.
At present, there are 83 fishing ports in 28 coastal provinces across the country and 65 sheltering areas. The facilities are currently equipped to house 82,000 vessels compared with Viet Nam's 130,000 strong fishing fleet, which also includes 27,000 off-shore boats.
The move follows criticism levied at a conference held late last year on the management and operation of fishing boats, which described the nation's fisheries infrastructure as insufficient.
Feedback given by management boards based in localities including central provinces such as Binh Dinh, Khanh Hoa and Da Nang, cited insufficient legal provisions, funding shortages and a lack of qualified staff as major problems affecting the sector.
Overlapping management of separate fishing ports was also believed to be causing a headache for stakeholders using the ports and failed to address violations.
Some sources cited conflicting authority between port management boards, empowered to manage port areas, and provincial People's Committees with the discretion to allocate or hire land to private parties.