Police in the central province of Quang Ngai are coordinating with border guards and the local police of Binh Son District to prevent residents from collecting artifacts from a shipwreck that was recently discovered in the area.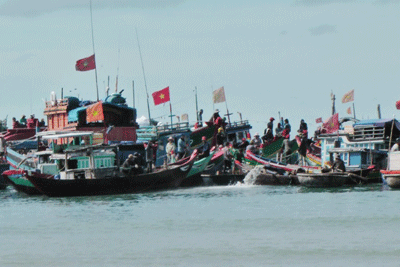 Fishermen wait in boats for a chance to loot artifacts from the shipwreck
The shipwreck was discovered by fishermen in Quang Ngai Province on September 7, in waters near Vung Tau in Chau Thuan Bien Town in Binh Son District.
As this shipwreck was only 50 meters away from the coast and three meters below the sea, hundreds of residents rushed to salvage and pick up the antique items as soon as news of the discovery broke.
However, since this was a wooden ship and sank hundreds of years ago, people had to seek help of divers and use dredgers to remove the sand and mud so that the ship's body could be exposed and artifacts could be retrieved.
It is a pity that because of mistreatment by local people, many artifacts broke while recovering them.
According to Tieu Viet Thanh, head of the police force in Binh Chau Commune, despite warning by local authorities, many fishermen continue to wait in their boats for an opportunity to take away some of these valuable objects.

Although the situation is somewhat stable during the daytime, the police had to increase guards at night, especially from 2am to 3am, said Thanh.
Dr. Doan Ngoc Khoi, deputy director of Quang Ngai Museum, announced on September 9 that a careful inspection of all the artifacts, mainly china and jade bowls and dishes, seem to belong to the Ming Dynasty of China in the 15th century.
There was a similar shipwreck discovery in Binh Chau Sea of Binh Son District in 1999 and the artifacts are now on display in Quang Ngai Museum.