The Ministry of Foreign Affairs has asked the Chinese Embassy in Hanoi to compensate the Vietnamese fishermen that were assaulted by Chinese forces on Feb. 22, and also robbed of their personal belongings.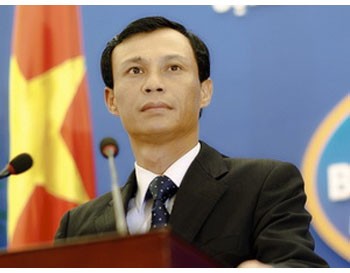 Foreign ministry spokesman Luong Thanh Nghi (File photo)
On Feb. 22 when 11 fishermen left on their boat from the central province of Quang Ngai towards the Hoang Sa (Paracel) Islands of Vietnam to seek shelter from a tropical depression, Chinese forces intercepted, assaulted and beat them, searched them and took away all their personal belongings.
Luong Thanh Nghi, the Foreign Affairs Ministry spokesman on Wednesday said that Vietnam has sovereignty over the Truong Sa (Spratly) and Hoang Sa (Paracel) Islands. Fishing by Vietnamese nationals in these waters is normal and abiding by international law- according to the United Nations Convention on the Law of the Sea 1982.
The above violent actions of Chinese authorities have infringed on Vietnam's sovereignty and jurisdiction, worked against the spirit of humanity, seriously threatened human lives and caused damage to property of Vietnamese fishermen.
This action was also not appropriate with the present relations between the two countries and opposed to the Declaration on Conduct of Parties in the East Sea (DOC), Mr. Nghi said.
Representatives of the Ministry of Foreign Affairs have met with representatives of the Chinese Embassy in Hanoi to protest the above actions, and request China not to repeat similar incidents, while also asking for compensation of losses and damage suffered by the Vietnamese fishermen.