The home of the cashew in southern Vietnam, Binh Phuoc province will hold the first Golden Cashew Festival on March 20-23.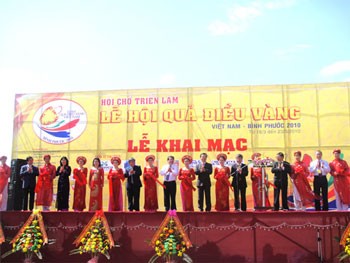 The opening ceremony of the Vietnam cashew industry expo is held on March 20.


The opening ceremony will take place at the provincial square in Dong Xoai Town at 8 pm on March 20 and be broadcast live on Vietnamese TV's VTV1, VTV4 and VTV9 channels, and some local channels.
The event aims to promote the Vietnamese cashew trademark, cashew industry and growers.
It is also a chance for cashew enterprises and growers to meet and exchange experience and scientific and technological advances in growing and processing cashews, and hopes to expand the market at home and abroad.
A Vietnam cashew industry expo opened on March 18 at the festival.
The display featuring more than 400 booths outlines the development and achievements of the country's cashew industry, and showcases cashew seeds, products made of cashew, cashew manufacturing and processing machinery.
During the event, there will be concerts; a parade of bicycles decorated in flowers; competitions to create a slogan and logo for the festival, and food making from cashews, a ceremony to award scientists and manufacturers, plus several conferences.
The highlight will be a ceremony to hand over cashew seeds from the Vietnamese government to the governments of Cambodia and Laos.
Vietnam is one of the world's biggest growers of cashews, which it supplies to more than 50 countries and territories with the US as the biggest market, accounting for 25 percent of the total production.
In 2009, Vietnam exported more than 177,000 tons of cashew, mainly to the US, China and Holland, earning over US$846, according to Vietnam Cashew Association.
The country expects to export 170,000-180,000 tonnes worth US$1 billion in 2010.