A forest fire blazed at noon yesterday to burn down dozens of hectares of cultivated forest in Hoa Vang District of Da Nang City.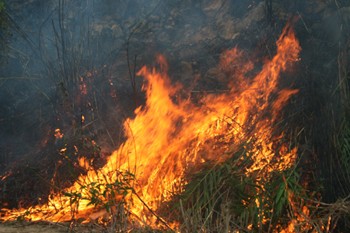 Forest flames spreading rapidly in Hoa Vang District of Da Nang City on July 9 (Photo: Lao Dong)
The City Steering Committee for Forest Fire Prevention deployed two fire trucks and fifteen firemen to help local residents extinguish the blaze. However, by 4pm it had wide spread across 20 hectares of cultivated forest land.
Tran Van Luong, head of the Forest Management Department in Da Nang City was present at the scene and stated that the complex and irregular terrain was complicating the process of extinguishing the fire.
Firefighters struggled tirelessly with another fire north of Da Nang City on Thursday. The fire broke out on the Hai Van mountain pass in Thua Thien-Hue Province and spread towards Da Nang City.
Luong said that by 8am on Friday, the Hai Van fire was brought under control. However, about 500 people still continued to monitor the area yesterday to prevent the fire from flaring up again. At least 20 hectares of forest was destroyed.
In related news, another fire occurred at Van Ly Village in Pho Phong Commune in Duc Pho District of Quang Ngai Province.
Tran Tien Dung, chairman of the People's Committee in the commune, said the fire destroyed 20 hectares of forest on Thursday night and was under control by yesterday morning. However, it flared up again at noon and spread even more rapidly.
The fire broke out on Mang Tang Mountain which is 4km away from Highway 24, thus fire trucks were unable to access the area. Hundreds of people helped to extinguish the fire, spattering it with tree branches.
Nguyen Van Han, head of the provincial Forest Management said it would be very difficult to put the fire out.
According to the Police in Pho Phong Commune, the fire was caused by a local man who wanted to burn his field after harvesting his crop of acacia trees. Strong winds caused the fire to spread rapidly to nearby areas.