A huge fire engulfed the Son Duc shop owned by Ngo Quang Duc, on 44A Phan Huy Ich Street in Tan Binh District, Ho Chi Minh City on Monday, destroying the 90 square meter building that was used for selling paint, varnish and acetone.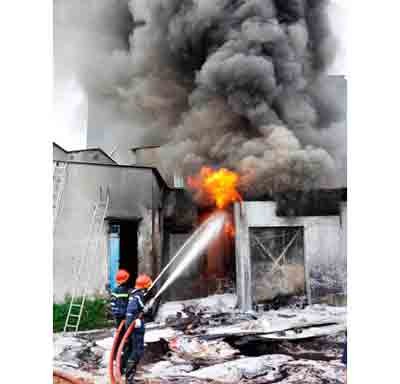 Fire fighters struggle to extinguish the fire at the Son Duc shop
90 fire fighters and 15 rescue vehicles arrived immediately at the scene to put out the fire and stop it from spreading to neighboring buildings.
It took one hour to douse the fire, which also destroyed nearby properties and damaged walls of nearby houses.
On the same day, a fire burnt down a cosmetic shop on 26 Pasteur Street in Hai Chau District in the central city of Da Nang.
The fire completely burnt down the second floor of the shop which is opposite to a pre-school.
As the fire occurred when the preschool was to be over, parents and children were in a panic. Fire fighters managed to put out the fire within 30 minutes.
Luckily, there were no casualties. Authorities say the cause of the fire was a short electric circuit.