A fire broke out at about 4.15 am on Friday in a 21-storey apartment building on Nguyen Chi Thanh Street in Dong Da District in Hanoi, engulfing the entire Block B of M3-M4 Thanh Cong complex in thick black smoke.
A security guard on night shift said he smelt something burning and discovered fire coming from the second floor, followed by loud explosions.
He called for help and along with other security guards tried to stamp out the fire using fire extinguishers.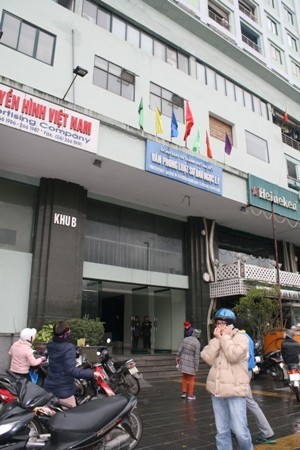 The scene of the fire (Photo:VNExpress)
The fire spread through the electricity pipes to the 21st floor, causing Block B of the building to be completely engulfed in thick black smoke.
On hearing of the fire, the fire department sent across five fire-trucks to the building.
As black smoke blocked the stairs and corridors, firefighters had to break doors and glass panes to put out the fire.
By 7 am the fire was completely extinguished, with no fatalities reported. Most of the residents had been evacuated from their apartments.
Police said that initial investigation showed that the cause of the fire was due to an electric short circuit on the second floor, which was used as a parking space.