Three houses were completely charred in a fire that broke out in a house in Tan Phu District at 9 am on July 6, rendering many homeless and causing substantial damage to neighbouring houses.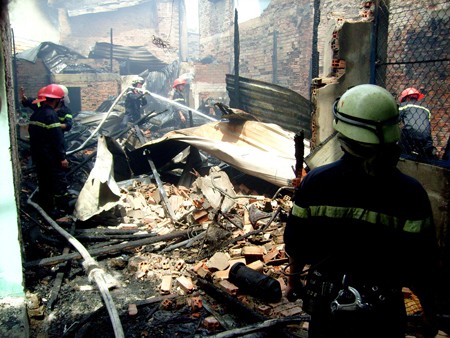 Fire-fighters battle flames in Tan Phu District.(Photo:SGGP)
Vu Ba Lam, resident of 94/3 Kenh Tan Hoa Street, said he was about to go to the market when he saw that his next door house No. 94/2 was on fire.
Within just a few moments the blaze spread to adjacent houses. 
Many fire trucks were deployed at the scene but it was difficult to control the fire in the narrow lane. Fire-fighters battled with the flames for nearly two hours before it was brought under control.

The fire started from house No. 94/2 while the owner was cooking.

Lieutenant Colonel Tran Van Quy said that three houses were totally charred and three other neighboring houses were damaged about 80 percent but thankfully no one was killed or injured.
The homeless people have temporarily shifted to their relatives homes.

The People's Committee of Tan Phu District offered VND300,000 per household of less than 4 inhabitants and VND500,000 per household of more than 4 inhabitants.
Police are investigating into the actual cause of the fire.