On September 15, a fire reduced to ashes several items of worship, including a Buddha statue dating back hundreds of years, at a pagoda in Cu Lao Dung District in the Mekong Delta province of Soc Trang.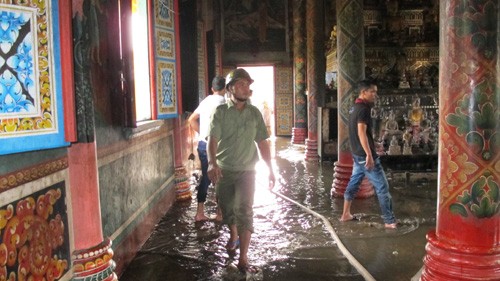 Bung Coc Pagoda after the fire
Police authorities reported that the fire was caused by huge candles that are normally lit for worship, some weighing as much as 9-10 kilograms.
At the time of the fire many candles were burning and one of them fell down onto other candles which then caused the fire to spread, quickly engulfing all the wooden furniture inside the pagoda.
The roaring flames took more than two hours to quell, tackled by   hundreds of locals and members of the pagoda who used large volumes of water to douse the flames.
The inferno completely charred the ancient wooden Buddha statues in the main hall of the pagoda, altars, and other articles used for worship.
Most Venerable Tang No of the Patriotic Monk Association in Soc Trang Province said this is the third pagoda that has been destroyed within one month in the province.
During prayer, candles are lit in pagodas in the province as this month the Khmer people enjoy a three-month-long traditional festival called Chol Vosa, to pray for good weather, peace and a happy family.
People buy Vosa candles, which are large candles that last the duration of the festival, and offer them to the monks. The festival lasts from June 15 to September 15 of the lunar month, hence the high risk of fires in pagodas.
On August 13, fire destroyed furniture in the sanctum of the 800-year-old Tac Gong Pagoda in My Xuyen District in Soc Trang Province, one of the country's most ancient pagodas. On August 26, another fire cause substantial damage to the 300-year-old Bung Coc Pagoda in the same province. All the fires were caused by fallen candles.