Barely 900 of the 7,700 former drug addicts released from Ho Chi Minh City's compulsory rehab centers have managed to find stable jobs, the city's leaders were told recently.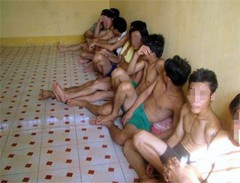 More jobs are needed for former drug addicts
The figure of 7,700 is forecast to double by the end of the year, so creating gainful employment for these people is of paramount importance.
Mr. Nguyen Van Minh, deputy director of the Labor and Social Welfare Service, pointed out that 630 of the 900 successful job seekers have been employed by half a dozen enterprises in Nhi Xuan Industrial Park, Hoc Mon District and are earning between VND700,000 and VND1.5 million a month.
The thousands of other rehabilitated substance abusers are looking for work or sitting around at home.
Ms. Le Thi Hong Phuong, vice chairwoman of the District 1 People's Committee, pointed out that former drug addicts can attend vocational schools for free to gain useful skills and make themselves more employable.
However, only half of 600 drug addicts who returned home after treatment are employed, she said, while many others have little opportunity for work due to their poor physical condition.
When asked why he employed former drug addicts, Mr. Do Cong Khanh, director of Diem Khanh Co., said he was encouraged by the Vietnamese government's preferential policies for companies that give jobs to these people .
However, he observed, their performance at work often falls short of requirements due to their lack of professional skills, their unreliability and their poor health.
Nguyen Thanh Tai, standing vice chairman of the Ho Chi Minh City People's Committee, said that more than 30,000 drug addicts have been rehabilitated, and 7,700 have started new lives.
By late 2007, he said, around 16,000 former drug addicts should have integrated into the community. He stressed that in order to stop them relapsing after being discharged from rehab, the business community should be urged to offer them more jobs so that they can earn a regular income.
Besides, he added, authorities at all levels and the public generally should combine their efforts to prevent drug abuse and organize meaningful social activities for young people in general and for young drug users in particular.