The Ministry of Agriculture and Rural Development launched the handicrafts village festival on September 18, to honor and promote traditional hand-made products in commercial markets.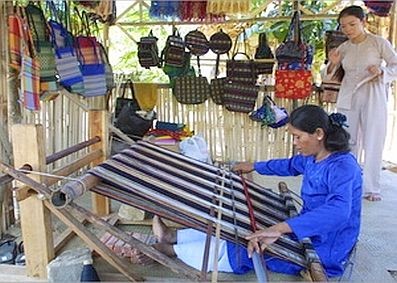 A booth in the festival displaying and demonstrating hand-made embroidered products
The festival will be on in the northern province of Nam Dinh from September 25 to 30. Handicrafts made from bamboo, rattan, silk and gold by artisans from dozens of craft villages will be on display at the festival.
An Van Khanh, deputy head of the Department of Processing and Trading of Agro-Aqua-Forestry Products and Salt, said the festival was earlier organized successfully in Hanoi, the central province of Thua Thien-Hue and the highland province of Lam Dong.
Each of the festivals was linked with a specific event. For instance, in Hanoi the display theme was 'Thang Long-Hanoi Craft Villages and Streets' and held at Bach Thao Botanical Park on Hoang Hoa Tham Street to mark the 1000th anniversary of the founding of Thang Long-Hanoi.
This year, the festival will be organized in Nam Dinh Province marking the 750th year of Thien Truong-Nam Dinh, for ancestors of the Tran Dynasty.
The ministry has coordinated with related agencies, local government and art, cultural and photograph experts to launch a competition to choose the most beautiful handicraft product displayed at the festival.
Out of 316 entries, the organizers have decided to give the first prize to Nguyen Phuong Quang for bamboo light sets and two second prizes to Nguyen Dac Thu and Nguyen Tan Phat for their products- - a bamboo cupboard and lacquer jewelry.