Capital disbursement in foreign invested projects increased by 10 percent in the first two months of the year to reach 1.1 billion USD, despite an overall decline in new foreign direct investment (FDI), according to the Ministry of Planning and Investment's Foreign Investment Agency.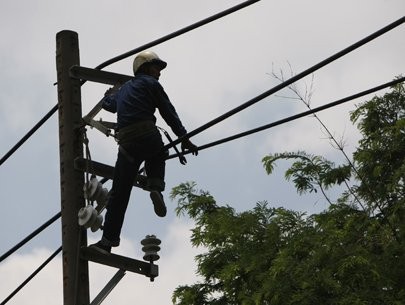 An electricity worker at work in Vietnam (File photo: Saigon Times)
Eighty-eight new projects were licensed during the period, worth a combined 1.6 billion USD – a decline of 40.2 percent in capital and 42.5 percent in the number of projects compared to the same period last year, the agency said.
Major newly-licensed projects include a 902.5 million convention and tourism complex financed by US-based Skybridge Dragon Sea Co in Ba Ria-Vung Tau province, a 120 million USD development by the Republic of Korea-invested Daewon Binh Khanh investment Co in HCM City, and a 100 million USD property project by CZ Slovakia Vietnam Co.
Sixteen existing projects have been fortified with additional capital so far this year, totaling only 165.2 million USD, just 4.3 percent of the figure in the same period last year.
The southern province of Ba Ria-Vung Tau led the nation's cities and provinces in the first two months in attracting FDI, drawing nearly 924 million USD or 57.2 percent of the total registered capital. It was followed by HCM City with 334 million USD and the southern province of Binh Duong with 212 million USD.
The Ministry of Planning and Investment said it would foster cooperation with relevant sectors and local governments nationwide to solve problems facing investors in implementing projects in order to hasten the disbursement of committed capital.
The ministry would also review all licensed projects for effectiveness of implementation. Those that had been delayed or were not environmentally sound would have their licenses withdrawn. Major projects requiring large tracts of land would be favored, and new policies would give priority to European, American, and Japanese companies, the ministry said.